RADCO Welcomes Three New Powerhouse Executives as Opportunistic Investor Adjusts Strategies to Changing Market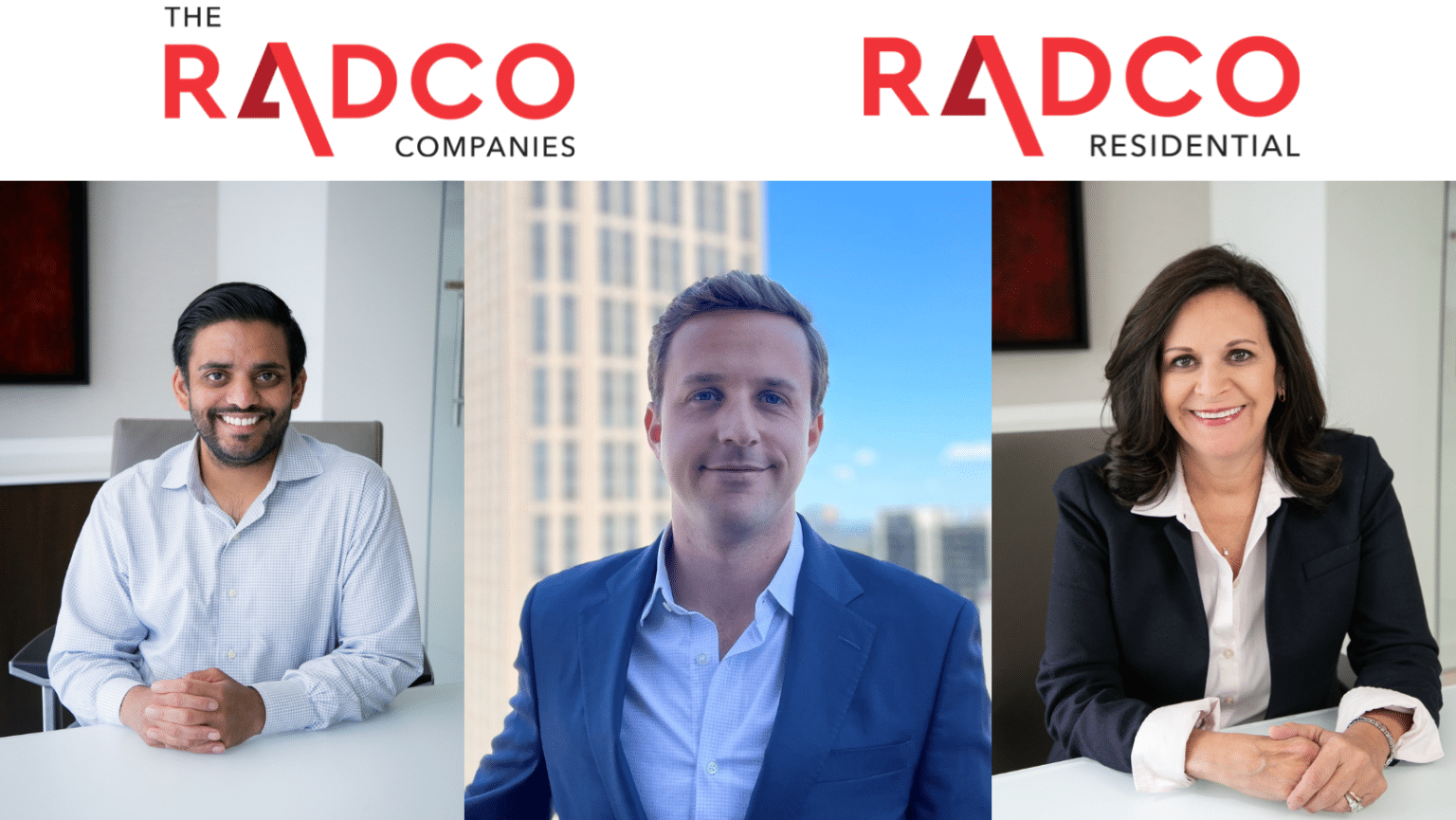 (Atlanta, GA – March 21, 2022) – The RADCO Companies (RADCO), one of the nation's leading opportunistic real estate developers, welcomed three new high-profile executives to its growing team as the firm embarks on new investment strategies in an evolving market.
"As RADCO expands its investment strategies beyond the value-add multifamily market to include hospitality and other commercial real estate opportunities, and continues our burgeoning third-party residential management services, we are thrilled to add these talented and experienced professionals to our executive team," said Norman Radow, CEO of the RADCO Companies.
Bhavnesh Vivek joined The RADCO Companies as Vice President, Hotel Acquisitions. Reporting to Chief Investment Officer Lisa Hurd, Bhavnesh brings a wealth of experience as a real estate investment and development professional. His expertise in the hospitality industry will help propel RADCO's recent re-entry into the hotel acquisitions market. He holds a Master of Science from NYU in Real Estate Development and a Bachelor of Science in Hotel Administration from Cornell University.
Keanan Gomez joined The RADCO Companies as Vice President, Investments. Reporting to Chief Investment Officer Lisa Hurd, Mr. Keanan will oversee investment opportunities at RADCO in the multifamily, industrial, and development space. He will play a pivotal role in expanding the firm's current portfolio and investment strategies. Keanan previously worked as an Acquisitions Vice President at Passco Companies and brings a wealth of experience in commercial real estate, multifamily and finance to the RADCO team. He holds a Master of Science in Commercial Real Estate from Georgia State University and a Bachelor of Business Administration in Finance and Economics from the University of Georgia.
Gail Ruggles joined RADCO Residential as Senior Vice President, Operations. Reporting to Chief Operating Officer Michael Brewer, Gail will oversee all Operations at RADCO Residential and work closely with the Regional Management Team to deliver strategic operational performance and ensure synergistic onboarding of third-party management acquisitions. Gail previously worked as an operations leader at companies that include Gables Residential, Pegasus Residential, and Steadfast Management.
These latest hires are arriving during a critical growth period for RADCO as the company expands its portfolio in multiple asset classes. Recent new investments include the acquisition of The M by Radius (fka Skyhouse Midtown), a luxury high-rise multifamily building in Midtown Atlanta and the purchase of the DoubleTree by Hilton Atlanta Roswell and the DoubleTree by Hilton Alpharetta hotels, boosting its new hospitality division. RADCO Residential is experiencing exponential growth of its third-party multifamily management services in addition to the management of its in-house portfolio.
The RADCO Companies
RADCO was founded in 1994 with the mission of "Building Better Living." Based in Atlanta, RADCO is a national real estate company that specializes in the acquisition and redevelopment of value-add multifamily and hospitality investments across the Southeast and Central US. Over the past 10 years, the firm has acquired and invested in approximately 30,000 units in 15 markets and completed more than 100 deals totaling $3.1 billion. For more information, please visit www.radco.us.