The RADCO Companies Announces $59 Million Sale of Sunstone Palms in Tampa, Florida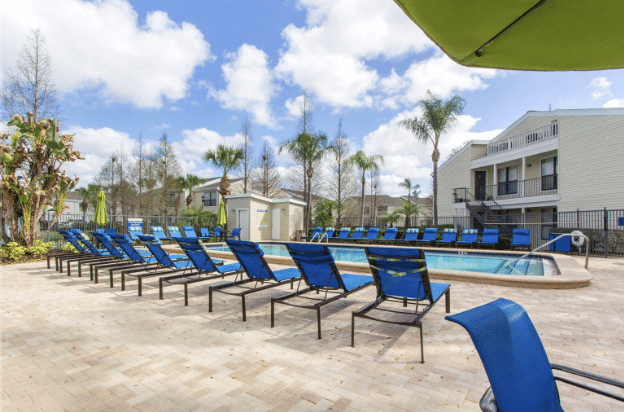 Atlanta Based Investor Sells 536-unit multifamily property
(Tampa, FL– December 31, 2020) – The RADCO Companies (RADCO), one of the nation's leading opportunistic real estate developers, announced the sale of Sunstone Palms, a 536-unit apartment community located at 12702 University Club Drive in Tampa, FL. The property was sold to Sunstone Properties Trust for $59 million.
The transaction marks the 73rd successful multifamily property disposition for RADCO during this real estate cycle representing nearly $2.5 billion in sales.
A Newmark Group team comprised of Vice Chairman Patrick Dufour, Senior Managing Director Ryan Moody, Directors Ryan Crowley and Andrew Visnick, and Associate Pibu Aulakh represented RADCO in the transaction. Sunstone Properties Trust was represented by Matt Williams, James Maynard, Kyle Schlitt and Fernando Riboli of Newmark's Debt & Structured Finance group in arranging financing for the acquisition.
"I am incredibly proud of our achievements at Sunstone Palms, transforming this 1975 vintage property into a safe community with superior amenities and unit interior upgrades," said Norman Radow, CEO of the RADCO Companies. "Sunstone Palms is an excellent example of what we do best. The combination of physical improvements and strong management elevated this project and positively impacted the overall neighborhood."
Sunstone Palms is a pet-friendly community offering one-, two- and three-bedroom floor plans with walk-in closets, wood style flooring and energy efficient appliances. The property offers an exceptional amenity package that includes two pools, two pet parks, a state-of-the-art fitness center, playground, BBQ and picnic areas, and clubhouse.
Located in the heart of Tampa, Sunstone Palms is close to the University of South Florida, the James Haley Veteran's Hospital, Shriner's Healthcare for Children and Busch Gardens. Access to nearby major thoroughfares offers residents easy commute times to the region's employment, retail and entertainment centers.
The RADCO Companies
RADCO was founded in 1994 with the mission of "Building Better Living." Based in Atlanta, RADCO is a national real estate company that specializes in the acquisition and redevelopment of value-add multifamily investments across the Southeast and Central US. Over the past 10 years, the firm has acquired and invested in approximately 30,000 units in 15 markets. For more information, please visit https://www.radco.us.
About Newmark Group, Inc. (NASDAQ: NMRK)
Newmark Group, Inc. is a world leader in commercial real estate services, with a comprehensive suite of investor/owner and occupier services and products. Our integrated platform seamlessly powers every phase of owning or occupying a property. Our services are tailored to every type of client, from owners to occupiers, investors to founders, growing startups to leading companies. Harnessing the power of data, technology and industry expertise, Newmark brings ingenuity to every exchange, and imagination to every space. Together with London-based partner Knight Frank and independently owned offices, our 18,800 professionals operate from approximately 500 offices around the world, delivering a global perspective and a nimble approach. In 2019, Newmark Group, Inc. generated revenues in excess of $2.2 billion. To learn more, visit nmrk.com or follow @newmark.